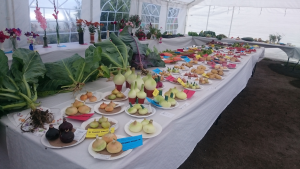 We had another very successful Flower and Vegetable Show again this year. Congratulations to all the plotholders who took part. The Judge commented that she was very impressed with the quality of all the entries again this year.
Trophies were presented on the day to –
Most points in the show – Maureen Coakley
Most points in vegetable section – George Holmes
Most points in flower section – Maureen Coakley
Most points in baking & preserves – Ann Blackhurst
Most points in novice section – Jack Gardiner
Most points in Junior – Olivia
Best Plot – Tommy Hall
Best Newcomer – Jack Gardiner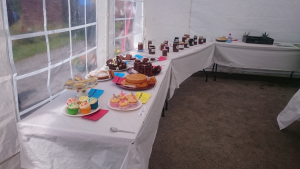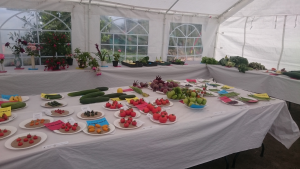 We'd like to say a special thank you to our judge Susan Glover.
Lots of people visited the allotments to see the show, buy produce, bric-a-brac, raffle tickets, have a piece of cake and a cup of tea. Thank you to all the people who helped on the day and those who helped setting things up, especially George who has spent a lot of time growing all the produce we sold on the day. It wouldn't be possible to hold our open days and shows without all the help that we get.
July 2015:
This year we will be holding our 8th Annual Flower and Vegetable Show on Saturday 15th of August.
We started back in 2008 as a small show with only 27 classes and each year we've grown bigger and better.
Last year we had another very successful show, with the judge commenting that all of entries were at a very high standard. We really want to encourage more of our new plot holders to enter the show. It's great fun and there's lots of people who will give you help and advice. We have a novice section which is great for beginners to try out.
We have a wide range of classes including vegetables, flowers, baking, preserves, photography, junior, novice and hens eggs.
I hope to see lots of entries in this year's show, remember if you need any help or advice let us know.
Download your documents here: